EVERYTHING YOU NEED TO KNOW ABOUT EXFOLIATING FOR WOMEN OVER 50

You can't underestimate the importance of exfoliation in a skincare regimen. Exfoliating removes dead skin cells and reveals the fresh, new, and healthy skin from beneath the surface.
This step also allows for serums and moisturizers to properly work their magic because the products don't have the burden of having to penetrate through a dead skin barrier—which makes products a lot less effective.
The efforts of exfoliating are rewarded by having a bright, luminous, and revitalized complexion that is a confidence booster. 
In addition to improved moisture absorption and improved skin texture, another prime benefit of exfoliation is that it avidly takes on the aging process.
But exfoliation is a skincare step that isn't exactly easy; in fact, many women are going about exfoliating in all the wrong ways—particularly if you're a woman who is over the age of 50. 
So how should women in this age bracket go about adding exfoliation into their skincare routine without harming their skin?
Read on for a step-by-step guide on gently breaking the barrier to get to that gorgeous glow that is just waiting to be revealed. 
Gone are the days when you could quickly work up a lather to cleanse your skin, slather on some moisturizer and SPF and call it a day.
In our sophisticated and more enlightened new beauty age, everyone is advised by skin experts to exfoliate—especially women over age 50.
But what exactly is exfoliation and why should you even bother with it? As we touched on earlier, exfoliating is the process of removing dead skin cells from the surface of your skin.
Your skin has a habit of naturally shedding dead skin cells to make room for new cells approximately every 30 days. 
Is Exfoliating Good For Aging Skin?
Should you exfoliate older skin? In a nutshell, yes!
Does exfoliating make you age faster? Not at all, if done correctly—really, exfoliating should have the opposite effect.
Sometimes nature needs a little nudge because dead skin cells don't always shed completely—particularly as we age.
What this looks like in tangible terms is dry, flaky patches on the face not to mention clogged pores. As you age, you may have noticed your skin gradually becoming rougher.
This is actually caused by a build-up of multiple layers of dead skin cells that have accumulated over time. Giving these dead skin cells the heave-ho will help your skin retain its healthy glow as you mature.
What Are The Best Ways To Exfoliate The Skin Over 50?
Exfoliation is the skincare step that comes after cleansing.
There are a number of ways you can exfoliate your skin: these include chemically exfoliating the skin, using a granular substance such as a scrub, or using a manual exfoliating tool like a microdermabrasion wand or even something as simple as a gentle washcloth.
While exfoliation is necessary for women over 50, it is highly advised to be very gentle with your skin during this step in particular.
This is because with women over 50, skin experts say that the outer layer of the skin becomes thinner and more delicate, so avoiding any kind of aggravation is paramount. Dermatologists advise taking a minimal approach to physical exfoliation, because this can cause micro tears on the epidermis—the outer layer of the skin—if you get carried away. A gentle exfoliating face wash for women over 50 might be a good idea, especially if you're looking for something that is cost-effective and time-saving.
But chemically exfoliating your skin as its own step can provide for a deeper exfoliation, and this typically involves using either an AHA (alpha hydroxy) or BHA (beta hydroxy) solution.
Toner pads that contain AHA and BHAs can be mild enough for daily use. They're a great way to clean out the pores of your skin to stop dead skin cells from getting in. Chemical exfoliants are considered the best face exfoliators for older women because there's no tugging or rubbing of the skin and the active ingredients are able to work their exfoliating magic all on their own. This is exactly why we have crafted PrimeSkin Beauty Water. It is a stabilized and hydrating formulation with 3 mild acids that are a boon to mature skin.
Glycolic acid melts away the make-up. Hyaluronic Acid beads plump up fine lines. And strawberry-based acetic acid provides deep rejuvenation and the sloughing off of dullness and scars."
What Is The Best Face Exfoliator For Older Women?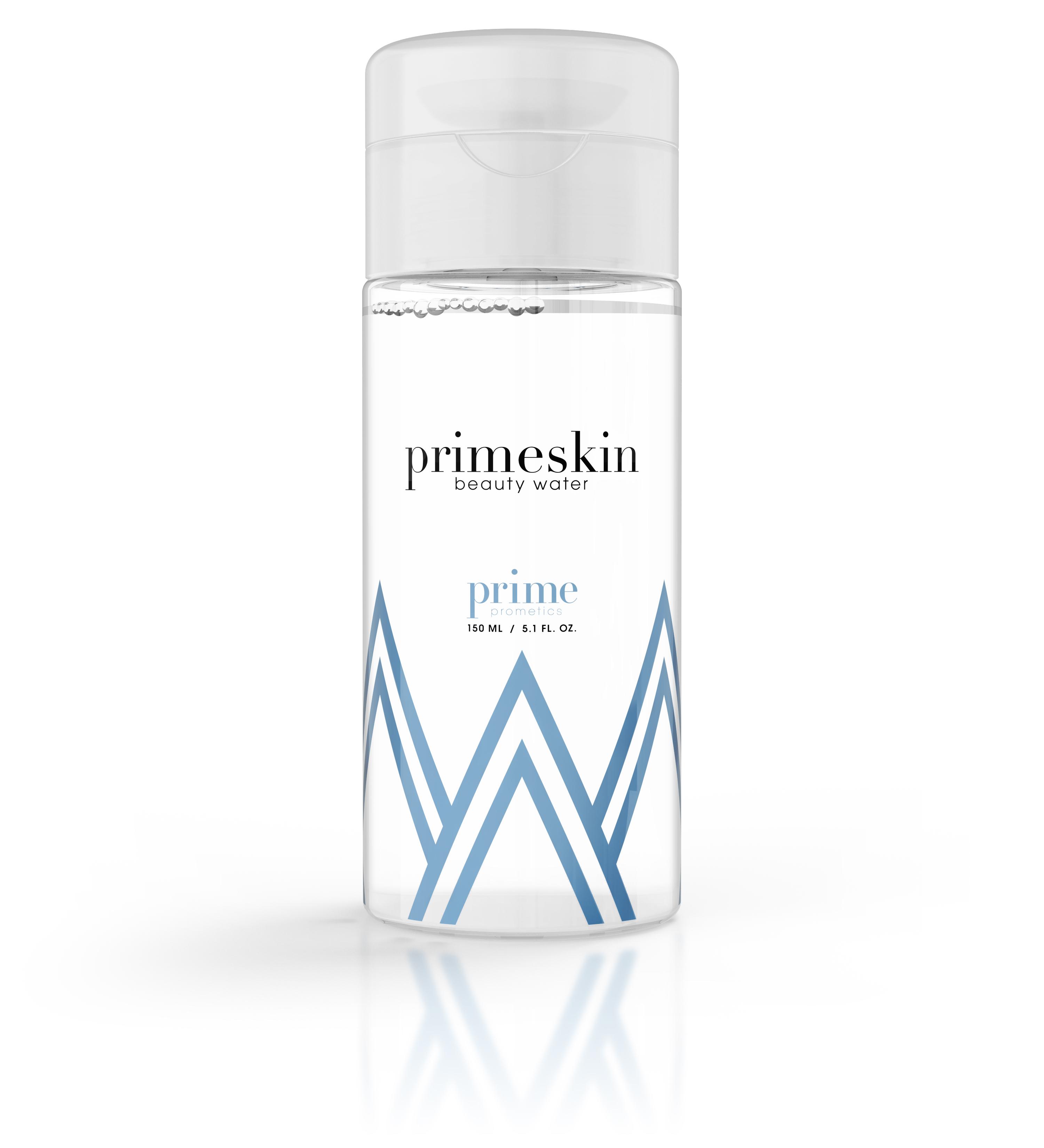 The best exfoliator is one that does not focus on exfoliation. We do not wish to abrade mature skin further. Most importantly, exfoliation in and of itself isn't the end goal. 

It's the benefits of the right kind of exfoliation that we seek. 
The ideal solution is to introduce exfoliation in a low-key and controlled way in your daily skincare regime. 
PrimeSkin Beauty Water ticks all the checkboxes. 
It is much more than an exfoliant. It uses acetic acid to combat dullness and Hyaluronic acid to eliminate that stretchy, dry skin feel.
But it also boasts Clary Sage and Lavender. To soothe inflammation, and to act on the clean exfoliated canvas of your skin as an age defying elixir that turns the clock back on the damage done by the years.
Which Scrubs Are Best For Wrinkles?
When it comes to aging gracefully and warding off wrinkles, we recommend Acura Radically Rejuvenating Facial Scrub because it's chock-full of antioxidants that will fight off those free radicals to keep your skin in peak performance.
The Moroccan red clay helps to pull out the impurities and the beauty about this product is that it gently exfoliates the skin leaving it feeling refreshed, renewed, and revitalized. 
We're also quite fond of Charcoal Face Scrub By LilyAna Naturals because this one is ideal especially for sensitive skin.
Applying this baby three times a week will buff away dead skin cells to make room for a natural glow without stressing the skin.
What Are The Benefits To Adding This Step Into Your Skincare Regimen If You're Over 50?
An exfoliator for skin over 50 is an excellent way to help give us the boost we need when it comes to cellular turnover.
The results are skin that looks brighter, refreshed and rejuvenated. You'll also notice how your skin absorbs your serum and moisturizer a lot better.
This is because exfoliated skin gets rid of the dead skin barrier and the nutrients from your products are able to penetrate into the deeper layers of your skin a heck of a lot better, making them so much more effective.
This is especially true if you're using a retinol product. The Vitamin A derivative is fantastic for targeting specific skin issues such as fine line and wrinkles, sunspots, and rough, uneven skin. 
Exfoliation is what helps set up the rest of your products so that they are primed to give you that glorious and gorgeous all-natural glow.
Exfoliating Prevents Hormonal Breakouts That Are Associated With Menopause
Now that we're on the post-50 side of life, we like to think that acne is a matter of the past. It's a nice idea but it's not all that simple, say dermatologists.
Some women can experience acne during menopause from what is probably a drop in estrogen levels or from an increase in androgen hormones such as testosterone.
Even if you're using hormone replacement therapies (HRTs) to ease your menopausal symptoms, you could still be experiencing hormonal acne.
Gently exfoliating your skin regularly can help soothe and soften mild to moderate acne and reduce your breakouts because it will keep your pores from getting clogged with pus and sebum (skin oils). 
How Often Should You Exfoliate Over 50?
As mentioned, if you're using a chemical exfoliant such as a mild AHA toner, it's probably fine to do this once a day after your nightly cleansing routine.
For a mild scrub, skin care experts recommend no more than two to three times a week by massaging gently after cleansing.
If, however, your skin happens to be especially sensitive, we recommend skipping the scrub altogether and sticking to a chemical exfoliant.
We also advise a consultation with a dermatologist who can most accurately suggest an exfoliating regimen that is specific to your personal skin needs.