3 WAYS TO GET ADVENTUROUS WITH MASCARA

3 WAYS TO GET ADVENTUROUS WITH MASCARA
Mascara can make you look younger. 
It can emphasize your eyes and create drama. 
It can even transform your expression from dreary to radiant in a few quick strokes. 
There are many age-appropriate and adventurous ways to use mascara.
Let's cover 3 of them today.
Black doesn't have to be your only option.

Blue, brown, or purple mascara— try something other than black. 
If you like to match your makeup to your outfits (and who doesn't?)..perhaps it is time to add a little color to the mix. 
Black isn't the end-all and be-all of mascaras anymore. Many silver beauties opt for a much more vibrant look with their lashes- like blue, brown, and purple.
Blue

can make the whites of your eyes pop and accentuate blue peepers. And even if you don't have blue eyes, blue makes everything look better - from gray hair to green eyes!

Purple

mascara is said to add definition regardless of what color your natural lashes are.
Brown is an excellent choice if you want to look fab but not over-the-top (it also works well if you have light hair).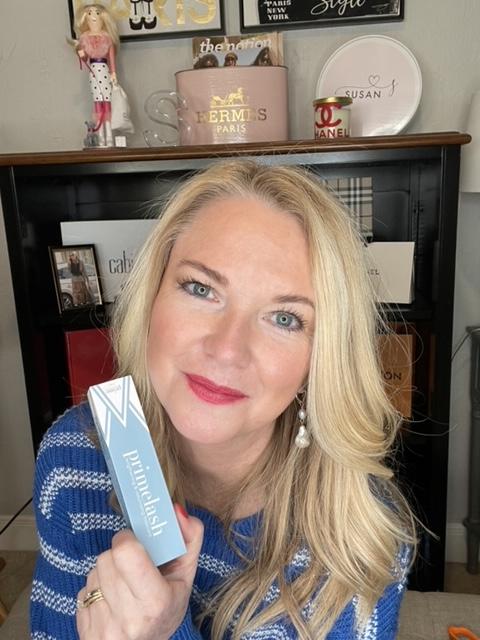 Plus, it looks great no matter what outfit or occasion you throw on top of it.
PS: For all our fun-loving silver queens who love blue mascaras, there's good news! Prime is launching a mascara in blue. Stay tuned.
Hold the wand horizontally to get those long 10X lashes. 
Wiggle it back and forth as you apply curly c-shaped lashes.
Brush diagonally up both sides of each lash line for an exotic cat eye effect.
Hold the wand vertically for a more natural effect.
PrimeLash Mascara has 100% natural ingredients which help thicken and lengthen lashes without clumping. The formula contains peptides and collagen to coax the growth of new eyelashes, while nourishing existing ones. 
You can also use PrimeLash Growth Serum for a maintenance dose of growth factors that promote lash strength and fullness over time.
Mascara gives your eyes definition and depth. 
It makes them look bigger, brighter, and more defined by adding length and volume. 
One way to use mascara for definition is by applying a layer of black mascara first, followed by brown mascara on just the tips and the lower lashes. 
This ticks the checkbox of ultimate definition and vibrancy, without giving the impression of over made up, stiff, cakey spider legs. 
Another option is applying two coats of brown mascara instead; for a softer effect that is just as mesmerizing. But for low-key occasions. 
When choosing a mascara, just ensure it has premium pigments that won't flake off or clump after a few hours (or less). 
Look for mascaras that contain hydrating serum bases, which will lengthen and strengthen your natural lashes. 
Try PrimeLash Mascara, which uses peptides to help strengthen each hair while giving it volume and length.