SMOKEY EYE TUTORIAL FOR WOMEN OVER 50. NAIL THAT SPECIAL "GLAM" LOOK.
SMOKEY EYE TUTORIAL FOR WOMEN OVER 50. NAIL THAT SPECIAL "GLAM" LOOK.
Smokey eyes are a classic that's been around for decades, but it's also one that many older women approach with hesitation.
Smokey eyes aren't just for the younger set. Silver queens can wear them too! A smokey eye look for over 50 can be intimidating if you feel like you need to be young and trendy to pull it off.
But it doesn't have to be that way! You can still rock this look at any age, even if you're 50, 60 or beyond.
Repeat after us: There's no such thing as "age-appropriate" makeup. You get to decide what's flattering for you.
But before you go for it, here are some tips that will prevent mistakes and help you nail that balanced touch of mystery with glam.
Smokey Eyes Mistakes to Avoid at All Costs:
Smokey Eyes Mistakes to Avoid at All Costs:
Using a dark color in the inner eye corner.
Although it's tempting to use a deep, rich shade to emphasize your eyes, make sure it isn't too intense.
You want to create drama, not give yourself raccoon eyes!
Not blending the colors properly.
When applying eyeshadow, don't forget to blend everything —this is especially important around the creases of your eyes as this is where we tend to look the most aged when done wrong!
Leaving the lower lashline bare.
This is a common mistake for beginners, and it can make you look tired or sickly without even realizing it's happening! The easiest way to avoid this is by using mascara on the lower lashes.
We know - the very idea is anxiety inducing.
Make sure you use a mascara shade that blends in with the color of your lashes. Try brown or navy instead of black. Brown and navy settle into a hue that doesn't feel over the top or needlessly accentuated. It's just the right definition.

Invest in a formula that is long stay, hydrating and clump free. What's worse than a bare lash line? One that's trying too hard with make-up not designed to apply flawlessly.
The RIGHT Way to Create Smokey Eyes For Women Over 50
The RIGHT Way to Create Smokey Eyes For Women Over 50
Step 1: Start by highlighting the brow bone with a good shimmery eyeshadow. Apply a light color to your eyelids as a primer, then blend well.
Step 2: Use a brightening shade in the inner corners of your eyes to highlight and lift. This will help highlight the inner corners of your eyes, making them appear larger.
Step 3: Now, take a black eyeliner pencil and apply it close to your lash line. You don't need to be too neat with this step, as it will be dark enough. Blend with your finger for a smoky look.
Step 4: Use purple above the crease for drama. You can also get creative here by using different shades of blues or greens depending on what looks best on you.
To get a smokey eye for mature hooded eyes, apply more product into the crease area than usual to ensure they stay lifted and open!
Step 5: On the actual eyelid, use a dark gray color instead of black (or brown) to make it more intense. This step should be done by going back and forth several times until you get the desired intensity.
Step 6: Finish off by applying a dark brown on the outer edges to give it a finishing look.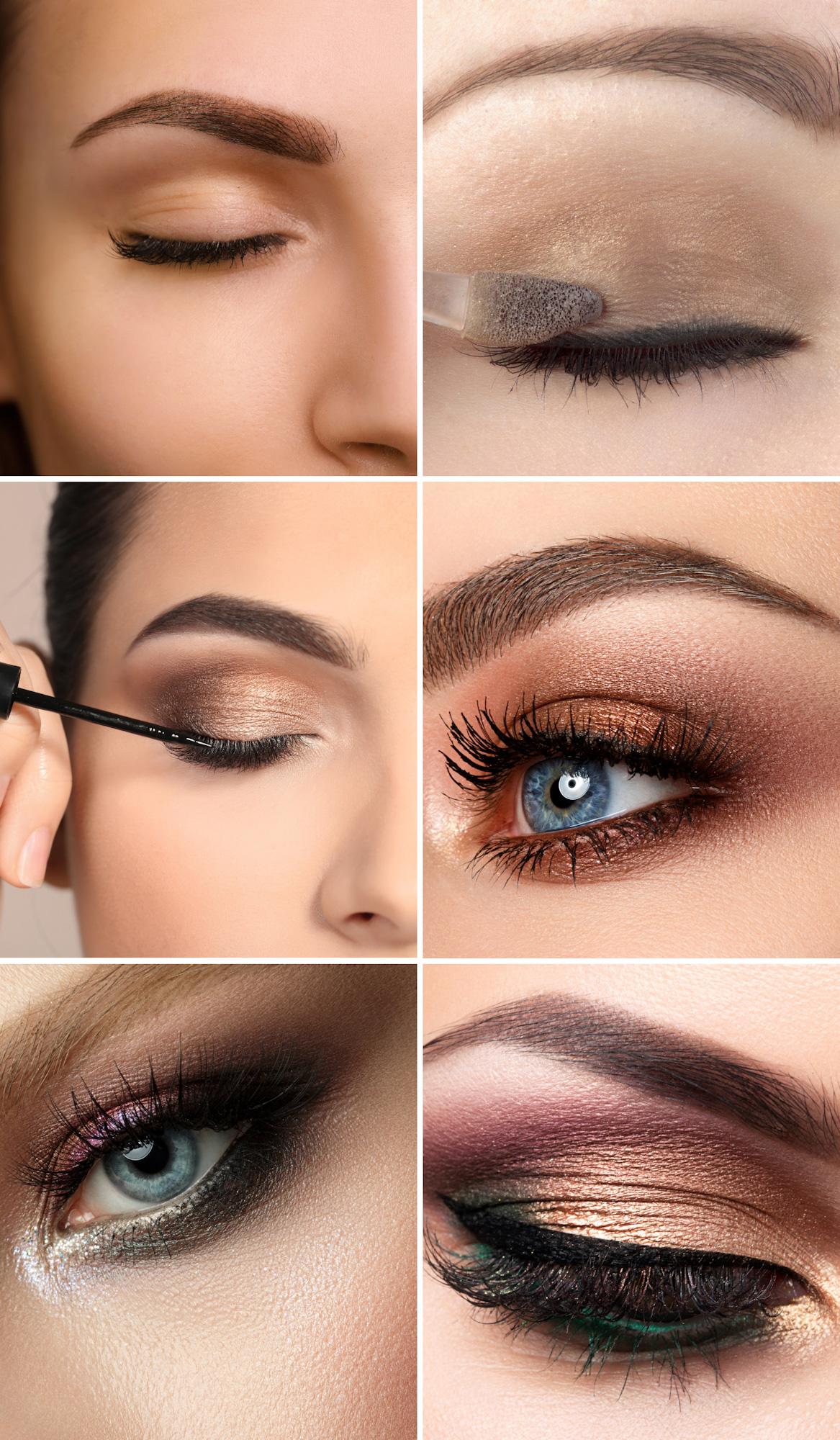 And here you have it, a tutorial for smokey eye makeup for over 50 women. I hope this post has helped you nail your special "glam" look and ensure that you're embracing every opportunity to feel beautiful and confident.